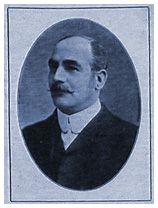 J.J. Binns (1855-1929) was without a doubt one of the most successful organ builders of his time in the Yorkshire region in England, of which there were a considerable number of back then.

He apprenticed at Radcliffe & Sagar in Leeds, in order to work for Abbot & Smith after his apprenticeship. There he worked from 1873-1880, primarily in voicing.

In 1880 he founded his own company, protegéed from J.W. Broughton from Leeds, who was well-known at the time. His most prosperous times peaked between 1890 and the First World War.

"Battleship Binns"
J.J. Binns's organs stand out because of their staggering appearance. The technique had such a solid build, that his instruments had already received the nickname "Battleship Binns" during their playing life. He consistently adhered to his technique: the pneumatically controlled slider soundboard with the extremely precise and flexible pallet bellows in the windchest.

He was just as consistent in his attempts to improve this technique. This peaked in his design and construction of a mechanical piston setter mechanism.

Musically he was inspired – as were many of his contemporaries – by the german organ builder, Edmunt Schulze, who made a deciding impression in northern England's organ scene after having built several organs there.
In fact his greatest accomplishment (Great Yarmouth, St. Nicholas, IV / 66) was destroyed during World War II but several small and middle-sized instruments still exist today. His largest surviving work is the organ in the Albert Hall, Nottingham.